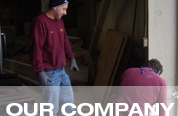 Our Customer Satisfaction Guarantee
We are committed to offering the best service, installation, and design work in class and the highest level in customer satisfaction. All work is performed by licensed technicians who receive direct factory instruction and our own in-house training. Because we are one of the largest HVAC companies in the State of Connecticut, we have an excellent working relationship with all major manufacturers and are authorized as warranty providers. We guarantee all of our work including installation, design and service. If the job is not done to your satisfaction or if a problem is discovered that is due to our error, we will make the necessary corrections and/or repairs at no cost to you.
Should you ever have a question about an installation, service or invoice, we are always available. Our goal is to ensure that your experience with Controlled Air, Inc. meets to your complete satisfaction on every level.
Thank you for considering Controlled Air, Inc. We look forward to working with you.
Sincerely,
Mike Chiocchio
General Manager