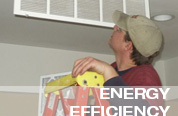 Federal Rebates and Incentives
A few important notes about funding:
Many of these programs require pre-approval before any work is started or you could lose your opportunity for funding.
Tax Deductions for Commercial Buildings
Tax credit extended through December 31, 2017
A tax deduction of up to $1.80 per square foot is available to owners or designers of commercial buildings or systems that save at least 50% of the heating and cooling energy as compared to ASHRAE Standard 90.1-2007 (or 90.1-2001 for buildings or systems placed in service before January 1, 2018). The deduction is available for buildings or systems placed in service before December 31, 2017. Partial deductions of up to $.60 per square foot can be taken for measures affecting any one of three building systems: the building envelope, lighting, or heating and cooling systems. You read more information here.
*Disclaimer: The tax credit information contained within this website is provided for informational purposes only and is not intended to substitute for expert advice from a professional tax/financial planner or the Internal Revenue Service (IRS).
Updated 6/20/2018
©2020 Controlled Air, Inc. Branford, CT . 203-481-3531 . controlledair@controlledair.com . Lic # CT S1 302788 / RI R/M1 & P/M 00007776