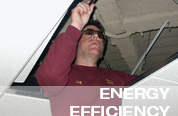 Connecticut State Rebates and Incentives Available
A few important notes about funding:
Many of these programs require pre-approval before any work is started or you could lose your opportunity for funding.
CPACE 
Commercial & Industrial Property Assessed Clean Energy (CPACE) is an innovative model of financing energy efficient upgrades to a commercial building. Repayment is made through an assessment on the property that is paid back through the property tax bill. The repayment obligation transfers automatically to the next owner if the property is sold. Because the payment is tied to the property tax, low interest capital can be raised from the private sector with no government financing required. Interested in finding out more?Download the CPACE Fact Sheet or Contact us!
CPACE for New Construction
Just recently introduced is CPACE for new construction. Previously CPACE was only available to renovations. The new building design must exceed the energy and efficiency requirements mandated by the state's energy codes -- which include requirements for things like lighting, HVAC and thermal envelope, which is paid for through an assessment on a property's tax bill.
Low-Interest Loans for Commercial and Industrial Customers
The Energy Efficiency Fund provides incentives to help reduce the cost of installing energy-efficient equipment; however, they do not cover the entire cost. The amount not covered by incentives, can be financed through the C&I Energy Efficiency Loan program. This is a low-interest loan offered to commercial and industrial customers who implement energy-saving measures through a qualifying incentive program funded by the Energy Efficiency Fund. The loan must be used for the upgrading or replacement of existing equipment with high-efficiency equipment and the limits are $2,000 minimum to $1,000,000 maximum.
Small Business Energy Advantage
This is a combined rebate and loan program for small business and industrial customers for making energy efficient improvements. Business customers with an average 12 month peak demand between 10 kW and 200 kW and industrial customers with loads below 50kW. The incentives are available for energy efficient lighting or controls, refrigeration controls, compressed air systems, VFD (Variable Frequency Drives), Programmable T-Stats, and Energy Management Systems. The loan maximums are $100,000.
Energy Conscious Blueprint
Incentives are issued based on the percentage by which a building exceeds the energy efficiency code. The incentive works with all new construction and major renovations to install energy efficient lighting, HVAC equipment, VFD, refrigeration, and gas boilers. Currently only available through Eversource, SCG, and CNG. Find more information here.
Energy Opportunities Efficiency Program
This program allows for incentives for creating energy efficiency throughout your business including, lighting, lighting controls, compressed air systems, motors, HVAC, VFD, etc. We will work with a Utility representative and will help you plan what energy efficient measures should be taken. New construction is not eligible. Currently only available through Eversource, SCG, and CNG. Find more information
Operations and Maintenance Program
For analysis and installation of modifications to EMS systems, pumps, fans, HVAC and compressed air systems which meet the program requirements. Available through Eversource, UI, CNG, and SCG. Find out more here.
Retro Commissioning Program
Optimizes operation of facility. The incentives can be used for resetting chiller discharge temperature, pump and fan speeds, demand ventilation, supply fan static pressure, humidity set points, boiler optimization, and to confirm operations for the EMS equipment. Available through Eversource and UI. Find out more here.
PRIME - Process Reengineering
Take a systematic approach to evaluating and identifying inefficiencies and waste in your current operation. For manufacturing only. For more information click here.
Cool Choice Rebate
Rebates make energy-saving air conditioning and heat pump systems more affordable.
Cogeneration and Solar
Cogeneration and solar grants are also available. The details are constantly changing. Contact us for the current available incentives.
Updated 6/20/2018
©2020 Controlled Air, Inc. Branford, CT . 203-481-3531 . controlledair@controlledair.com . Lic # CT S1 302788 / RI R/M1 & P/M 00007776