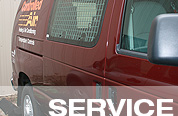 Service Contracts & Preventative Maintenance
Controlled Air, Inc. can create a custom maintenance solution to meet your service needs. Our service delivery strategy starts with a thorough preventive maintenance plan, which will minimize repair calls.
Even if you have "newer" or at least "up to date" equipment it is still beneficial to have a service contract.  Service contracts are necessary regardless of the age of your equipment and will benefit your company by reducing "downtime" due to equipment failure and decreasing energy costs from inefficiently running systems.
Controlled Air, Inc. custom tailors service contracts to suit your business needs. You will never pay for services that you do not need and your equipment will always run at peak efficiency. With a custom service contract or routine maintenance package you are assured that your equipment will be properly maintained on a timely basis. We assign a service technician to your account so you are provided consistent and seamless service.
We offer three types of service contracts: Planned Maintenance, Labor Maintenance, and Full Maintenance.
A Planned Maintenance Contract provides all of the preventive maintenance needed for your HVAC and temperature control equipment.  Repairs are billed on a time and material basis.  Customers who select this type of contract are given priority response when emergency service is requested and are billed at a discounted time and materials rate.
With a Labor Maintenance Agreement you receive the same benefits included in the Planned Maintenance Contract, but it also includes labor costs needed to make repairs.  Parts are billed at a discounted materials rate.
A Full Maintenance Contract includes all of the benefits in the Planned Maintenance Contract and Labor Maintenance Agreement as well as any materials needed for repairs.  In short, everything is included. There are no additional fees for repairs or emergencies.
Within your contract we will specify what type of inspections will occur and when. You will know how often your equipment will be inspected and what services will be performed.  Inspection times/types are custom solutions based on the type of equipment being serviced, the environment the system resides, our experience, and factory recommendations. Although we inspect specific equipment during each assigned inspection, we do not ignore the equipment around it. If our technician discovers a problem with surrounding equipment we will notify you immediately to discuss the steps and costs necessary to correct and repair.