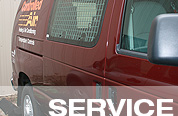 Service Contracts
A service contract assures that your equipment will be properly maintained on a timely basis. When systems are all operating at peak efficiency, energy consumption and downtime are minimized.
We can schedule routine maintenance to your convenience and our team of service professionals is on call 24/7 to respond to any emergencies. Through remote diagnostics, our engineers can often check your systems and effect corrections right from our office to your site.
Call for custom-tailored service contracts designed to keep you covered.