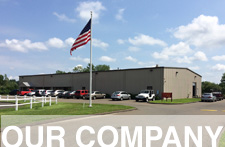 Sustainability Statement
Controlled Air, Inc. installs, repairs and designs heating, air conditioning, ventilation and controls systems for commercial, industrial and manufacturing. Controlled Air, Inc. is a leader in creating environmentally sound, energy-efficient HVAC designs that save money for our customers and promote conservation of energy to help the environment.  We understand how HVAC systems have a significant impact on the environment using an average of 54% of a building's energy use. Sustainable and energy efficient design is imperative for the environment. Environmental sustainability can be defined as preventing harmful and irreversible effects on the environment by careful use of natural resources, energy conservation, minimizing waste and protecting the environment.
We encourage both high efficiency equipment, as well as on-going preventative maintenance that keeps equipment running properly and maximizing the life and efficiency of equipment. We also suggest sustainable and efficient equipment such as CHP, Fuel Cells, and VRF systems which reduce the amount of energy required to create a comfortable building environment.
Additionally, we have  2 LEED certified AP employees and one ground source heat pump certified expert on staff that can help a building become LEED Certified. You can read more about LEED here: https://www.usgbc.org/articles/green-building-101-what-leed
Environmental Sustainability targets
Controlled Air, Inc. is committed to tracking and improving our environmental impact throughout our company, as well as those buildings that we repair, maintain and design. We analyze the following to determine our environmental impacts and make the necessary steps to reduce our resource usage:
Vehicle Movements: We track our vehicle movements to reduce idling and improve efficiency.
Recycling and minimizing waste: Both in the office and on site.
Reducing physical damage to the environment and pollution on site: We collect all trash, leftover and older equipment and material to make sure it is properly disposed of, recycled or reused when appropriate.

If equipment is not used we have it reclaimed and stored for another job or project

Recommending and promoting high efficiency and environmentally friendly equipment: We encourage our customers to make more environmentally friendly choices by showing comparisons of energy used with standard versus high efficiency equipment.

Perform energy use evaluations to find ways for customers to save energy
Evaluation of Lighting and making replacement within our energy evaluations.

Sustainable Office Practices:

Water filtration to eliminate plastic bottles
Converting to digital
Motion sensor lighting to save electricity
Deploying recycling containers at every desk and work station

Implementing a "right the first time" policy on all steps of the process, starting from briefing, all the way to design and construction. This is led from our President and driven through all levels of employees.
On Site:

Using washable filters when appropriate

Properly reclaim/recover and recycling all refrigerant: This helps reduce chances of refrigerant being let off into the atmosphere. All refrigerant is tracked and strictly monitored.
CHP/EPA Program: We are part of the CHP program with the EPA and we track our carbon emissions savings through our CHP installations. In 2017, we helped reduce CO2 emissions by 2,370,000 metric tons.