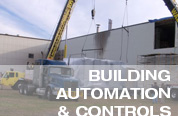 Johnson Controls
Authorized Building Security Specialist
We are authorized building security specialists for Johnson Controls. We can not only develop and install your controls system, but your security system as well. These systems can include access control, video surveillance & monitoring, digital video recording, control readers, door swipes, and control cards. Make your energy management system a true building management system with access security and controls for your entire building.
P2000 Security Management System
Fully scalable, intuitive and easy to use The Johnson Controls P2000 security management system is the ideal solution for small to large-scale security needs. As your security requirements grow, your P2000 system can easily grow with you by increasing the capacity for managed personnel, readers and work stations. The P2000 system can be seamlessly integrated into a Metasys® building management system. The P2000 system provides an effective foundation for missioncritical security needs. Operators can perform functions easily – the system can run on a number of operation systems (Microsoft® Windows Server® 2008, Server 2003, Vista®, business, Vista Ultimate, and XP) . An underlying Microsoft SQL 2000 or 2005 database engine offers high performance without high overhead. And with the enhanced graphical user interface (GUI), the system operator can access an interactive, real time facility map, featuring dynamic icons, to monitor and control major facility systems and functions.