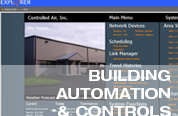 Facility Workbench for iPhone
Facility Workbench 2.1 and up has the wonderful capability of being connected to an iphone or ipad. This gives you front end supervisory control. It is as simple as entering an IP address into the browser of your iphone or ipad, then entering in a username and password. You then have the ability to see how the controls system is functioning and make basic changes.
This gives any business the opportunity to access their information from anywhere, day or night. As long as you have an Iphone and 3G or wifi service you can access your HVAC system. For more information about this option, contact us today.