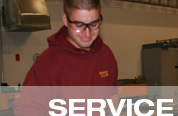 Log A Service Call
Call our service department directly to schedule service.
Preventative Maintenance
Controlled Air, Inc. can create a custom maintenance solution to meet your service needs. Our service delivery strategy starts with a thorough preventive maintenance plan, which will minimize repair calls. All work is performed by technicians who receive direct factory instruction and our own in-house training. We assign service technicians to each account to provide consistent, seamless service and they are kept apprised of all aspects of our customers' service history. Our dedicated technical support staff assists service technicians to assure any problems are resolved quickly and efficiently. Computer and GPS-dispatched technicians are always on call and enter service documentation via laptop.
Our remote diagnostic capabilities can often pinpoint system irregularities and allow for adjustments through computer access. Automatic notification systems can alert us of problems that may be resolved even before customers are aware of an issue. Our highly skilled technicians are all OSHA-certified and have EPA licenses to handle refrigerants. We follow all guidelines for hazardous waste material disposal. Once work is completed, our quality assurance team checks to make sure that all systems are operating correctly.
Controlled Air, Inc. is enrolled with the State of Connecticut Office of Apprenticeship Training, and many of our apprentices have become valued employees upon becoming licensed technicians.
Because we are one of the largest HVAC companies in the state, we have an excellent working relationship with all major manufacturers and are authorized as warranty providers. Our service philosophy insures extended life and maximum efficiency of your equipment. Because we stand behind every job we do, we offer a lifetime warranty of our workmanship for installation, design and service.