Tax Credits Available on Gas Heat Pumps
We are excited to share that we have confirmed the Gas Heat Pump (GHP) systems manufactured by Yanmar qualifies for the 30% tax credit, as well as for direct payments to tax exempt entities, under the Inflation Reduction Act (IRA).  Yanmar GHP is considered a mechanical cogeneration product and should be treated as "Combined Heat and Power system property" (CHP)  for purposes of Internal Revenue Code Section 48, under the Investment Tax Credit (ITC).
As part of the new provisions adopted, the IRA imposed additional requirements to receive the 30% tax credit. The project must be installed under specific requirements and may require prevailing wage and apprenticeship requirements depending on the size of the project and other specific considerations.
These systems must be installed between January 1st 2023 and December 31st 2024. Please consult with your tax professional for additional requirements, information and to verify your qualification.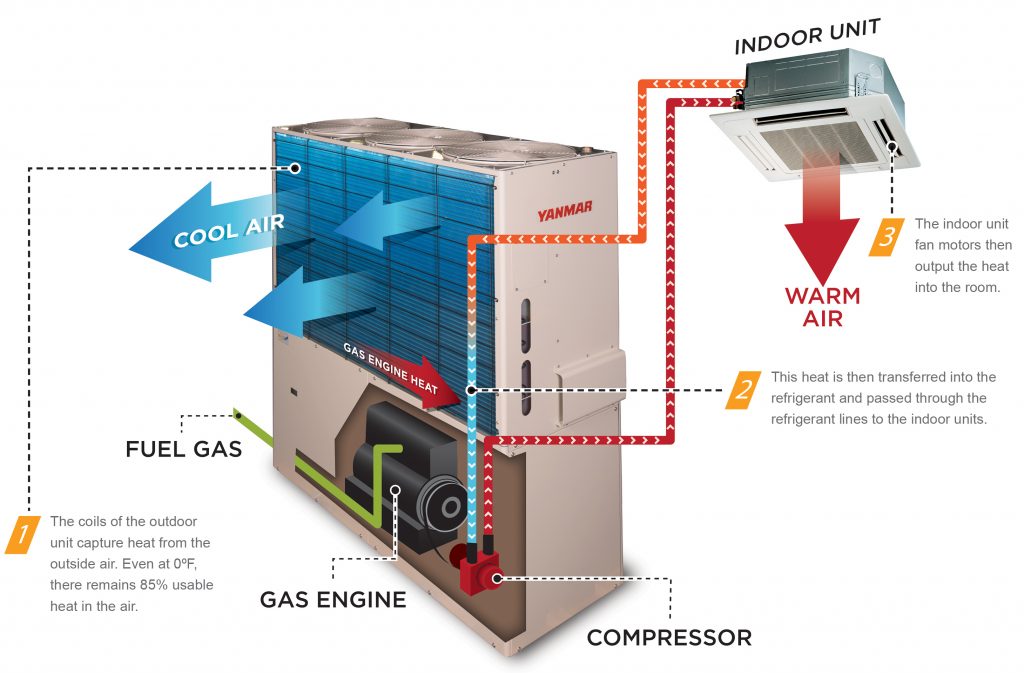 GHP's, also sometimes referred to as VRF's, are highly advanced mechanical units, concurrently producing mechanical power and thermal energy that provide heating and cooling. The natural gas heat pumps provided an electrical load reduction of approximately 30% and an 80% carbon emission reduction as compared to electric heat pumps powered by the grid.
Benefits
The benefit of a heat recovery system is that it allows for simultaneous heating and cooling by absorbing excess heat energy in one zone and transferring it to heat another. This helps provide comfort while operating at maximum efficiency. The heat recovery system allows for localized comfort with independent temperature control. Every occupant can enjoy a perfectly heated, cooled, and dehumidified area. VRF is a flexible system in operation and installation. Multiple configurations of indoor units are available, including wall and floor mounts.
Click here to download our flyer with more information.