University of Bridgeport, Bates Hall VRF System
We planned, designed, managed and installed one complete Lennox VRF system at Bates Hall, a historically recognized building on the campus of University of Bridgeport. This system was chosen due to the lack of space provided and the exceptional zoning capabilities it provides the customer. This system has the ability to heat and cool at the same time at very low energy cost.
Bates Hall is the largest Lennox VRF System in New England. The VRF system includes 2 outdoor units and 18 indoor units. VRF Systems provide simultaneous heating and cooling throughout the building, as well as auxiliary heaters for negative temperatures. The VRF system further includes variable speed drives with stage up/stage down capabilities.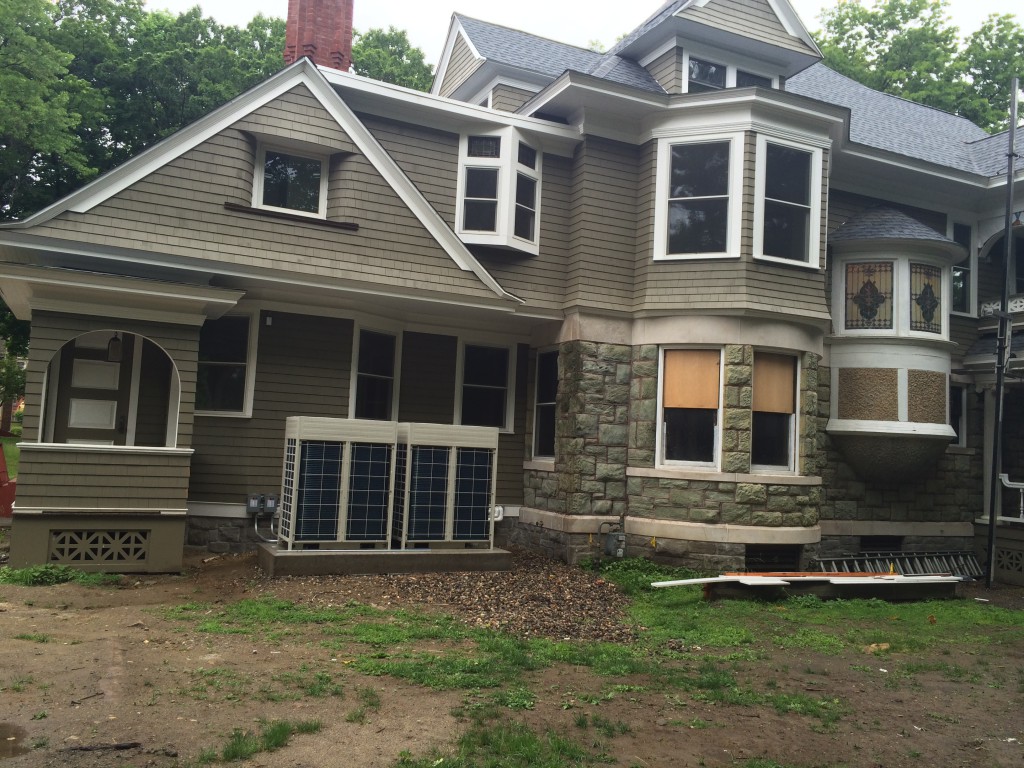 What is VRF? 
Variable Refrigerant Flow, VRF, is a system that provides simultaneous heating and cooling by absorbing excess heat energy in one zone and transferring it to heat another. This helps you maintain the ultimate level of comfort while operating at maximum efficiency. By offering a building the ability to create localized comfort with independent temperature control, VRF can help every occupant enjoy a perfectly heated, cooled, and humidified area.  This makes customization easy and efficient. VRF is a flexible system in operation and installation. Multiple configurations of indoor units are available, including wall and floor mounts. Lennox VRF is ideal for a wide range of buildings and workplaces. Perfect applications for VRF include: Lodging, Healthcare, Multi-family structure, Hospitals, Education, Retail and Dining. It is equally suited for new building or upgrades in an existing building.
What are the Benefits?
20%-25% more efficient then conventional systems: VRF systems may cost more than traditional central air systems up front, but this cost can be offset by lower energy bills and repair expenses over time.

Higher comfort with individual zone control: No matter how your building is used, this customizable solution allows you to control different comfort needs independently. Unused rooms' climate controls can be switched off entirely.

Smaller Footprint Quiet: In a VRF system, the noisier condensing unit is typically outside, and the indoor air handlers are smaller and quieter than a traditional systems.

Consistent comfort: The VRF HVAC system can detect the precise requirements of each zone, and send the precise amount of refrigerant needed to do the job. As a result, each area of your space is consistently comfortable with well-controlled humidity and no hot or cold spots.

VRF systems take up much less space than forced-air systems—a benefit that's especially important in existing structures.
Multiple Control Options
Up to 16 Zone Levels

Centralized level (up to 128 indoor units)

Integrated building level (multiple VRF systems)

Integrated connectivity (for control using any web-connected device)
Financing/Rebates can work with CPACE financing. VRF is so new that it doesn't have specific tax credits and rebates but it does/can qualify for rebates and incentives with proper energy modeling.
Contact us for more information 203-481-3531