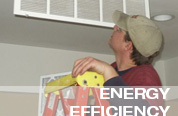 Saving Money on Utilities
It is our goal to offer our customers energy efficient, cost effective, and high return on investment for their HVAC needs. Through this process we realized that often even when we update HVAC systems, utility bills can still be high because of the rates from the utility companies. So in order to save our customers even more money we have partnered with energy companies that offer reduced rates and alternative energy. We submit your current utility bills for analysis to determine how much money each month can be saved. This analysis is absolutely free. Fixed rates on utilities are available for 12, 24, 36 months. This fixed rate allows for predictable costs. Companies have saved as much as 20% on their utility bills. This fixed rate is a great opportunity when utility companies raise rates twice a year. Green and renewable energy sources are available.
Contact Controlled Air to get a Free Energy Study, which will analyze your current utilities and see how much money you can save each year.
©2020 Controlled Air, Inc. Branford, CT . 203-481-3531 . controlledair@controlledair.com . Lic # CT S1 302788 / RI R/M1 & P/M 00007776